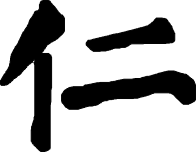 NTI Buddhist Text Reader
Chinese Word Detail
成 chéng to finish / to complete / to accomplish / to succeed
Traditional:
Listen:

Grammar: Verb
Notes: For example, 君子去仁,惡乎成名? 'If a superior man [junzi] abandon virtue, how can he fulfill the requirements of that name?' (Lunyu 4:5, trans. by Legge 1861)
Other senses of the word: 成
---
Copyright Nan Tien Institute 2013-2014, www.nantien.edu.au.
This page was last updated on December 13, 2014.