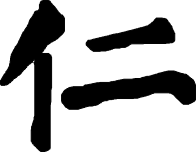 NTI Buddhist Text Reader
Chinese Word Detail
道 dào way / road / path
Traditional:
Listen:

Grammar: Noun
Notes: 道 is the 69th most frequently used word in the 1985 Beijing Institute of Languages frequency wordlist. In this sense 道 means 道路 (Ho, 2002, '道'; NCCED '道' n 1). For example, 风过去了,只剩下直的雨道 'The wind went away and all that was left was the rainy path.' (Lao She, 2003, p. 264) Middle Chinese: daoX. 道 is used in the same sense in literary Chinese (Kroll '道' 1). For example, 通九道 'made the roads communicable.' (Records of the Historian, Annals of Xia 《史記‧夏本紀》)
Other senses of the word: 道
---
Copyright Nan Tien Institute 2013-2014, www.nantien.edu.au.
This page was last updated on December 13, 2014.