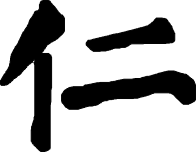 NTI Buddhist Text Reader
Chinese Word Detail
中 zhōng middle / during / inside
Traditional:
Listen:

Grammar: Noun
Notes: For example, 布什总统在演讲中 'In the middle of President Bush's speech ...' (VOA 2007-7-5 'The Red Mosque') This sense of 中 is used in both modern and classical Chinese (Kroll '中' 1). In literary Chinese, 中:內也。 'Zhōng: inside.' (Shuo Wen Jie Zi, Gǔn Radical 《說文解字‧丨部》)
Parent concept:
位
(Position)
Other senses of the word: 中
---
Copyright Nan Tien Institute 2013-2014, www.nantien.edu.au.
This page was last updated on December 13, 2014.